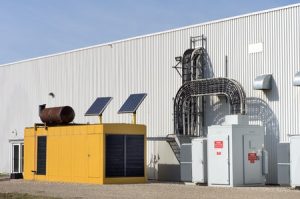 Whether you are a large grocery chain or a small mom and pop shop, keeping the produce in your refrigerators and freezers cool is of the utmost importance. Losing power because of a downed power line, natural disaster or lightning storm can take a real financial toll on your business, but luckily there is a way to prevent most power outages from causing your food to spoil.
How? You can install a standby generator, hooking it up to your refrigeration system to ensure that things don't heat up – regardless of what time of day or night you lose power.
A bit different from the portable generator that many homeowners purchase in case of weather related emergencies, a standby generator is installed outside of your business on a concrete pad, ready to jump into action should your power fail. Depending on its size, the generator can be set up to power specific machines or your entire store. It will typically be powered directly from the natural gas line so you don't have to worry about maintaining a full tank.
Although the upfront cost of a standby generator is more than that of a portable version, it will be a much bigger help to your business should a power outage occur outside of work hours.
Here at Weather Control Inc. we understand how important it is for your store to keep it's refrigerated products fresh, which is why we have our team of refrigeration specialists on call 24/7 in case of a refrigeration emergency. For all your commercial refrigeration and freezer needs, please call us at 703-370-5200.