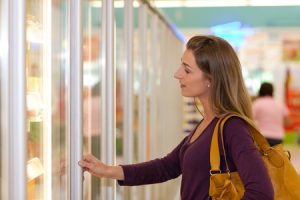 There is nothing more unappealing to customers than a refrigerator that doesn't sparkle and shine, which means that keeping yours clean should be a top priority. Sure, spills happen in the grocery store every day, but that doesn't mean that your display units shouldn't look pristine at all times.
Simple, daily cleaning and regular maintenance will help to keep your customers happy and your refrigerators at their best.
Check for Spills
An important part of your store's daily routine should be to check for spills in the refrigerated food section. There are few things that can create a more rancid of a stench than spilt milk; and the smell of this mishap – or any other food stains –in your refrigerator will be sure to turn customers away.
Also, when spills do happen, take the time to clean beneath your refrigeration units as well so they do not linger.
Clean the Glass
Another task to perform at the end of each day is to clean your refrigerators' glass doors of any prints that are on them, sanitizing door handles as well. Your customers will appreciate the ability to see clearly into your refrigeration units, instead of having to look through children's handprints.
Watch the Dates
Just the sight of an already-past expiration date will upset customers, which is why removing produce that will be expiring soon is so important. With all your refrigerated and frozen foods well-organized and properly dated, customers will enjoy their shopping experience much more!
Empty Them Out
Performed every month or so, completely emptying and deep cleaning your refrigeration units will also help to keep them looking their best. Disinfect and scrub them to get rid of any food stains you may have missed during your daily cleaning. Also clean crumbs and dust out from underneath.
You may even want to double check to make sure machines are operating at the proper temperature at this time. According to the FDA, refrigerators should be kept at 40 degrees Fahrenheit (or lower) and freezer units should be kept at zero degrees Fahrenheit.
Along with proper cleaning, it is also important to have regular maintenance performed to keep your refrigeration units running at their peak performance. For all your refrigeration maintenance needs, please call Weather Control, Inc. at 703-370-5200. Our experienced team of technicians will be happy to assist DC, MA and VA area customers with all their refrigeration needs.